Home building in high risk coastal areas booms as the wealthy embrace stricter building codes—while the less well off head inland.
This news was reported by Arun Kakar of Spears:
"Stricter building requirements in high-risk locations are pushing up construction costs and premiums, but not stifling demand. The Florida building codes, first released in 2010 and updated last year, provide standards for hurricane resistant buildings. De Mallet Morgan says that governments and HNWs are increasingly looking to these sorts of guidelines even at the most luxurious tranches of the global property market.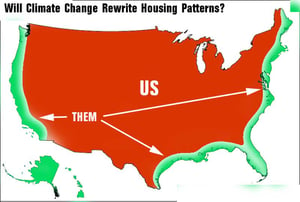 'Generally speaking, people are becoming more environmentally conscious,' he adds. 'We've got a private island in the Exumas coming onto the market, one of the finest in the chain. The people looking at the island- which are a little more exposed- are thinking about the environment, the energy and the fuel they use. They are thinking about building responsibly.'
For these tropical properties it easier to build a solar reserve than to burn through endless tanks of diesel. Protections are no longer seen as a contingency, but are a key component embedded into the planning process.
HNWs will continue to pay the higher premiums so long as some of the most desirable locations in the world- the Alps, the Napa valley and the Caribbean – remain pristine."
Related Story: Study Shows $1 Trillion In Property Threatened By High Tides