This webinar shows you how to improve indoor air quality to comply with LEED and ventilation codes.
Sponsored by Panasonic, this course will provide a basis for ventilation practices needed to provide healthy indoor air quality for occupants of residential homes. A review of current Michigan and pending ventilation codes changes in Ohio will be followed by three strategies for meeting code. Most of these codes apply to any state requiring ventilation and LEED for Homes. Final, proper sizing and installation practices will be discussed, to ensure maximum performance of the designed ventilation system.
Continuing Education Units (CEUS) 1 hour in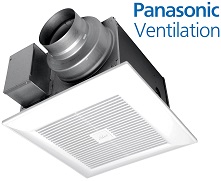 Green Building Certificate Institute (GBCI)
Building Performance Institute (BPI) NonWholeHouse
American Institute of Architects – AIA (HSW)
Certified Green Professional (NARI & CGP)
Certified GreenHome Professional (CGHP)
AIBD
State Architect / Builder License may be applicable
Lessons Learned
1. How to Establish the necessity for good ventilation – What's at Risk?
2. Describe details of the ventilation codes in Ohio, Michigan & LEED BD+C V4 Homes EQ Pre Ventilation
3. Review the difference in Whole-House and Spot ventilation requirements and how that compares to EED BD+C V4 Homes EQ enhanced Ventilation
4. Articulate three different ventilation strategies for meeting code & LEED BD+C V4 Homes EQ Pre Ventilation
5. Explain proper equipment sizing for a residential ventilation systems
6. Detail the fundamentals of proper installation, to ensure IAQ success
Register for the webinar here. 
In the late 1990s and early 2000s Jeff managed many different utility programs, supervising a staff of over 30 in making existing homes more energy efficient and comfortable to live in. In addition, for the past 20 years Jeff has worked with builders to design residential ventilation systems, select the right products and train installers on proper sizing and installation to ensure better indoor air quality and a healthier lived in environment. He is certified in Residential Ventilation Installation by the CMHC (Canadian Mortgage Housing Corporation) and in 2003 became certified as a HERS Rater (expired). In his current role as National Indoor Air Quality Manager for Panasonic Eco Solutions, Jeff leads a team of IAQ Specialists across the country who strive to help builders build durable homes with healthy IAQ.