The entry deadline is upon us, but it's not too late!  Green Builder's annual Home of the Year Awards program invites all builders and architects to put their best square footage forward.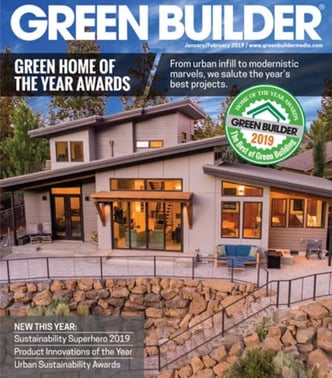 Whatever else you can say about award programs, they offer you some of the biggest marketing bang for your buck you'll ever get. Besides that, they build your company's brand credibility. Not least of all, winners get the red carpet treatment at a VIP dinner on January 19, 2020 in Las Vegas, where their work will be shown on the "big screen."
Winning a Home of the Year Award from Green Builder, historically, has helped many builders and architectural firms weather tough times–and grow in good times. This annual, national award, now in its twelfth year, honors the "best of the best" in high-performance housing.
Historically, our entries come from many sectors of the industry: builder, architects, manufacturers. Finalists get a tremendous amount of airplay: not just featured coverage in Green Builder magazine and online, but many are picked up by both local and national media outlets.
This year, we've simplified the entry form, so it won't take long to throw your project into the ring. Take a few minutes today to show us your best work. We'd love to honor your project, and get to know you and your firm at our annual Gala event during Design & Construction Week in Las Vegas in 2020!
The deadline for entries is OCTOBER 11th!