ICC's Jim Cika explains how to inspect solar water heating systems for compliance with 2018 International Codes.
Solar water heating systems provide an efficient way to meet hot water loads in most climates. Unlike photovoltaic systems that generate electricity, most solar water heating systems directly heat fluids using solar energy. Fl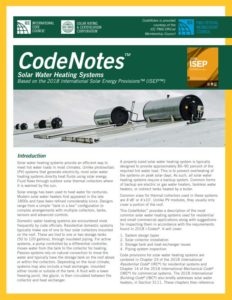 uid flows through outdoor solar thermal collectors where it is warmed by the sun.
This CodeNotes — 
Solar Water Heating Systems (based on the 2018 ISEP)
 — provides a description of the most common solar water heating systems used for residential and small commercial applications along with suggestions for inspecting them in accordance with the requirements found in the 2018 International Codes.