This award winner is just one example of the lessons builders will learn at this year's EEBA Summit.
This is the sixth year that EEBA will be hosting the DOE's Housing Innovation Awards at its annual Summit. The awards recognize builders who have pushed the envelope on the Path to Zero Energy Ready homes by showcasing projects that offer lessons for others builders. As such, the awards perfectly support EEBA's mission of educating the industry on how to design, build and sell high-performance homes.
An example of what attendees will see this year is a winner in the Large Custom Home category, a four-bedroom, 4,691-square-foot zero energy home in Hampton, Va., on a beach overlooking the Chesapeake Bay. It was built by Health-E Community Enterprises and in many ways represents the ultimate in high-performance: super-efficient, healthy, resilient and handicap accessible.
But while the home was obviously designed for a well-heeled custom buyer, builder Jay Epstein used design approaches and materials choices that he says apply to more mainstream projects. In fact, he offers similar designs at his new 75-unit production community.
The home's specs are summarized in the data box at the end of the article. When asked for the three lessons he would like to convey to other builders, he talks integrated design, the highly optimized building envelope, as well as how to communicate value to high-performance buyers.
Question Everything
This is the fourth Housing Innovation Award Epstein has won, a track record he credits in large part to a very deliberate design approach. The home achieved a HERS score of 47 without PV and -16 with it. The road to that result included seeking input from subcontractors and consultants before making key decisions.
For instance, Scott Sidlow of TopBuild Home Services, the HERS rater, says that Epstein modeled different insulation systems before settling on the one he thought was the most appropriate. "Most builders just want their homes to pass inspection," he says. "Jay is adamant about maximizing efficiency and takes a deep dive into all areas."
That means questioning every detail. For instance, the insulation systems Sidlow modeled included open cell plus closed cell, closed cell plus cellulose, and closed cell plus blown fiberglass plus continuous exterior insulation.
Sidlow says that builders who don't take the time to model these what-ifs, are leaving efficiency gains and money on the table.
The integrated design approach is also important when choosing mechanicals. The home has a Trane TruComfort variable speed heat pump and Trane Comfortlink controls that work with a network of sensors to monitor and optimize humidity and temperature.
Epstein says that an engineering consultant is invaluable for this part of the design. "We always use a third party to size our HVAC equipment," he says. While this is standard practice in commercial and industrial projects, it's probably safe to say that few residential builders do it. However, Epstein insists that, especially on a zero energy ready home project, it's unrealistic to assume the dealer will accurately size the equipment.
Flash-And-Batt Done Right
Epstein nicknamed the home "Noah's Ark," to make the point that everyone inside will stay safe and secure in even the worst weather. As such, he wanted an envelope that made the home not just super-efficient, but resilient in the face of North Atlantic storms defined by high winds and driving rain.
Of course, resilience starts with a solid structure. This home includes impact-resistant windows and fiber cement siding. It sits on an elevated steel substructure a full story above grade. The steel bears on a concrete grade beam, which in turn is supported by 36 pilings driven an average of 35 feet into the sandy soil. If a there's a hurricane-driven storm surge, the ground level (which houses a garage and a small conditioned entry) can flood without impacting the main living area above.
A truly resilient home will also stay habitable during a storm-related power outage. The home's solar panels, along with a backup generator, would supply the power in that case but what keeps everything warm and dry are the envelope details.
The wall is a "Hybrid" design, a combination of closed cell foam for air sealing and either blown fiberglass or open cell foam for additional R-value—in other words, flash-and-batt. But while flash-and-batt isn't uncommon, Epstein says it's often done in ways that put the home at risk of moisture problems.
To prevent moisture from migrating within a tight wall system, the home needs a climate appropriate ratio of air impermeable insulation (closed cell foam) to air permeable insulation (open cell or blown-in fiberglass). "In Zone 4 where this house is located, the impermeable insulation must supply at least 15% of the total wall R-value, and preferably more," he says. Other climates will have different requirements. (Epstein says the best resource for doing this right is Joe Lstiburek's Hybrid Attics and Hybrid Walls, available for purchase from the ASHRAE website.)
The closed cell foam also has a structural benefit. Because it was applied in all exterior floors, walls, and ceilings, it literally "glues" the house together. "The house doesn't shake during even the worst storms," he says.
He sheathed the walls with Huber's ZIP R3.6 sheathing, which serves as an air and water barrier and also includes an insulation layer that serves as a thermal break. He added a layer of housewrap on the North and East sides—the parts of the house facing the water.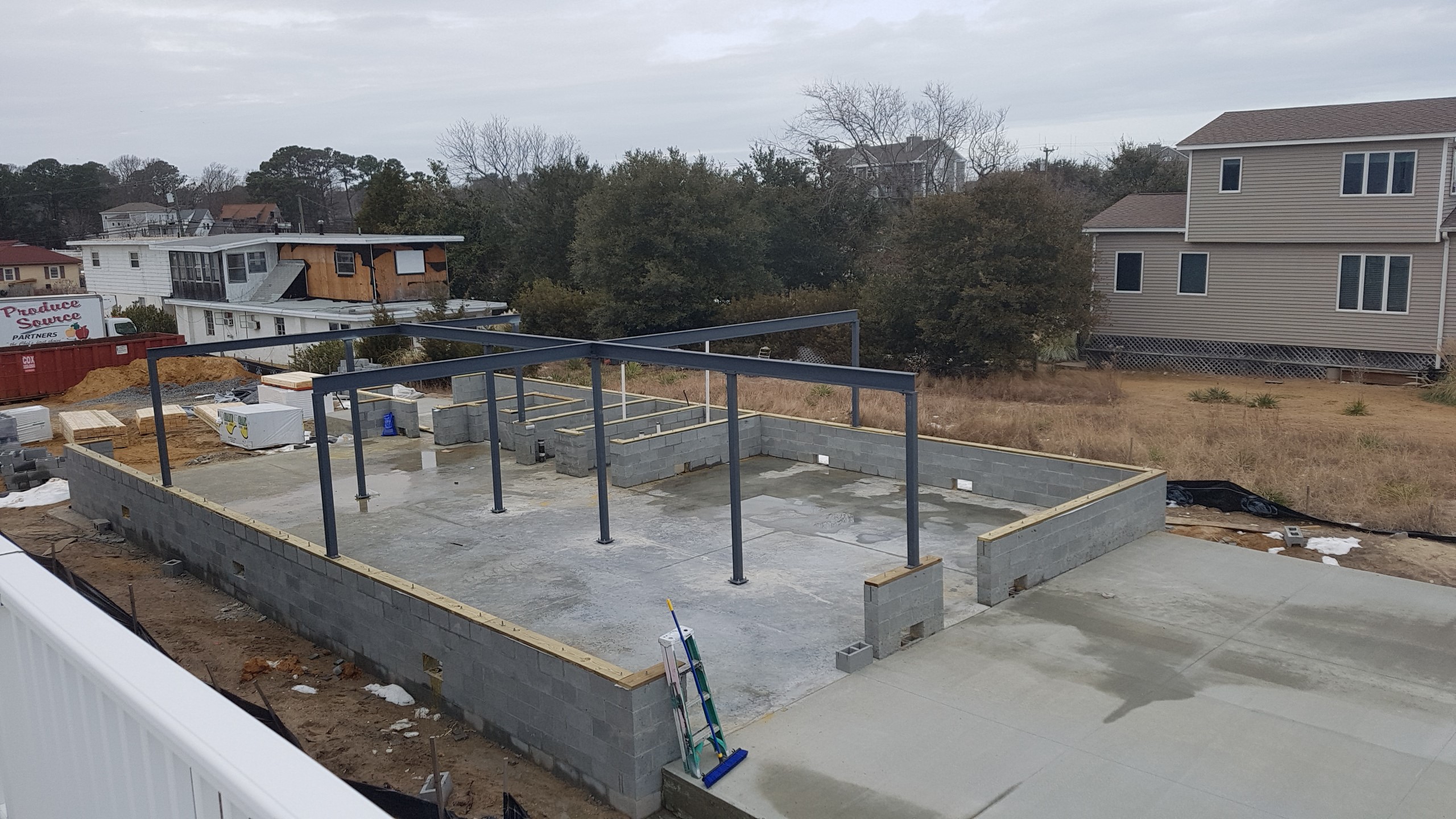 Of course, people don't buy R-values or mechanical systems; they buy things like health and peace of mind. Epstein has something to say about that, too.
The house design follows a path that ends at the Zero Energy Home Certification while also meeting the client's other expectations. That means asking plenty of questions. "When someone approaches us about a home, we start by asking a lot of lifestyle questions to help us better understand their expectations and priorities," says Epstein. If, for instance, they have allergies, he will make health a top priority and will focus on that during subsequent conversations.
He says that while it's important to help buyers understand how their home works, that information needs to be presented at the right time and in the right context. Health E-Community brands itself as a builder of eco-friendly solar homes with a traditional flair. Epstein finds that buyers are attracted to that message and that it opens an opportunity to talk with them about the home's high-performance features. However, the focus needs to be put on how those features will improve their daily life.
More details about this Zero Energy Ready home should be available on the DOE's Tour of Zero website sometime in October. Meanwhile, you can also learn more at the EEBA Summit in Denver from October 1-3. The Housing Innovation awards ceremony will be presented at lunch on the first day. And, of course, many of the other sessions detail the types of approaches used in this and other award winners.
---
Project Facts
Location: Hampton, Virginia
Conditioned space: 4691 square feet
Passive solar design with low U-value glass
13.1-Kilowatt solar array
Modeled Performance Data
• HERS Index: without PV 47, with PV -16
• Annual Energy Costs: without PV $2,000, with PV -$250
• Annual Energy Cost Savings: (vs typical new homes) without PV $1,800, with PV $3,900
R-Values
• Roofs: 44.7
• Walls: 30.6
• Framed Floors: 56.2
WRB: ZIP system sheathing. Additional housewrap layer on the North and East walls.
Walls and roofs: Walls include closed cell foam, blown fiberglass insulation and Zip R 3.6 sheathing. Roofs use a combination of closed and open cell foam.
Heating and Cooling: Trane TruComfort XV20i variable speed heat pump, CleanEffects air cleaner, Zoned Comfort Link XL 1050 and XL850 touchscreen controls. Two-stage American Standard gas furnace provides backup in very cold weather.
Ventilation: Panasonic Intella Balance 100 ERV
Air Filtration: Trane CleanEffects filtration technology on heat pump. Panasonic MERV 8 filter in ERV
Hot Water: ProLine XE Hybrid Electric Heat Pump water heater.  Structured plumbing system with a recirculating pump.
This article was reprinted with permission from The Energy & Environmental Building Alliance (EEBA). To read more articles like this, check out the EEBA blog here.