An empty-nester couple thrives in this custom home, built to the exacting standards of the U.S. Department of Energy (DOE)'s Zero Energy Ready Home (ZERH) program in Westminster, Md.
The 2018 award-winning home, dubbed Rose Acres by its owners, Suzanne and Dan Swisher, provides 4,270 square feet of living space, including two bedrooms plus his-and-her offices for the work-from-home couple; a great room, breakfast room, dining room, kitchen and bathrooms on the main floor with full wheelchair accessibility; a second-story loft; a hot tub; a complete two-bedroom mother-in-law apartment in the daylight basement; and beautiful views of the surrounding countryside—all at energy bills of less than $50 per month.
"After having outrageously high energy costs over the past several years, we now look forward each month to seeing how small our utility bills are," say the homeowners.
The couple adds that it is enjoying various ZERH creature comforts, such as its geothermal heat pump, R-value, airtight Structural Insulated Panel (SIP) construction, and insulated concrete foundation walls. The home "effortlessly maintains even temperatures throughout, while delivering super clean air."
The homeowners also sing the praises of their builder, Kiere DeGrandchamp, who launched High Performance Homes in Gettysburg, Pa., in 2014. DeGrandchamp builds up to 10 custom or semi-custom homes per year, all of which are certified to the DOE ZERH program. "The program encapsulates everything we try to achieve—a quality built home that is livable, efficient, healthy and environmentally friendly," DeGrandchamp says.
Precast Below, SIPs Above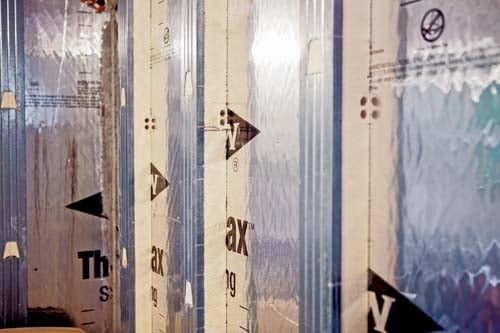 Airtight Structural Insulated Panel (SIP) construction, insulated concrete foundation walls and a continuous layer of rigid foam help bring the home's energy bill to a monthly average of a mere $49.
Rose Acres is a one-and-a-half-story home with a walk-out basement. High Performance Homes constructed the below-grade walls of precast concrete panels with an integrated R-21 of rigid foam and integral metal-faced foam-insulated concrete studs. The panels were installed on site; then, two inches of rigid extruded polystyrene (XPS) foam was laid down to provide an R-10 insulation layer under the entire poured concrete basement slab.
The above-grade walls were constructed of 6.5-inch R-23 SIPs, which provide an R-30 insulation value. The sturdy panels, which consist of two sheets of Oriented Strand Board (OSB) sandwiching a layer of rigid expanded polystyrene foam, come to the site pre-cut for fast assembly with no construction waste. The solid panels block air flow and resist movement in high winds, while the continuous layer of rigid foam stops heat transfer through the walls.
Around the perimeter of the first-floor bands, a 4.5-inch-thick SIP wall was installed to eliminate any thermal bridging and provide an R-15 insulation value. The bands were sealed with one inch of closed-cell spray foam and further insulated with an R-19 batt between the floor joists. The entire assembly nets an R value close to R-30. Every crack and joint was sealed using low-expansion foam and caulk. The SIP panels were covered with house wrap plus tar paper behind the diamond lath on any areas to be clad with stone. The remainder of the house was clad with vinyl siding per manufacturer's instructions. At the wood-to-foundation transition, weep screed was installed to help ensure proper drainage.
Other Insulating Details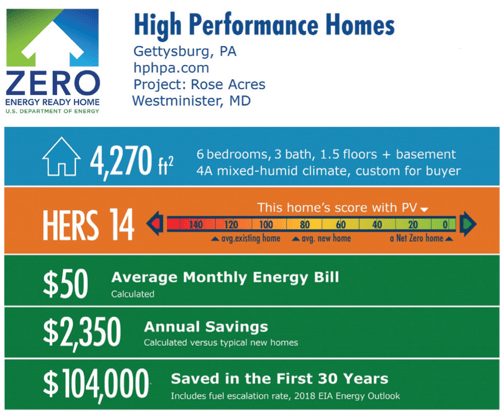 The vented attic was insulated and air sealed along the entire ceiling deck with one inch of closed-cell spray foam and R-49 blown fiberglass for a total insulation value of about R-53. The attic has full ridge and soffit vents. The lifetime-warrantied roofing shingles were applied over 15-pound felt. The eaves, valleys and gables all have ice-and-water shielding that extends 12 inches past the interior plane of the walls. The builder used kick-out flashing and five-inch sidewall flashing to help keep water out of the walls. All of the downspouts are connected to pipe to carry runoff 10 feet away from the foundation, with pop-ups for overflow.
High Performance Homes installed double-pane Energy Star®-rated windows with low-emissivity coatings, and an argon fill with an insulation U-factor of 0.25 and a solar heat gain coefficient (SHGC) of 0.29.
The tight home was tested per DOE ZERH requirements and showed air leakage of only 1.1 air changes per hour at 50 Pascals, which is more than twice as tight as required by the 2015 International Energy Conservation Code. To provide good ventilation for the home, DeGrandchamp installed a system that employs a fresh air intake, exhaust with timer and controlled smart switch venting that calculates the makeup air needed and opens the fresh air damper when needed to provide balanced fresh air.
Geothermal Perks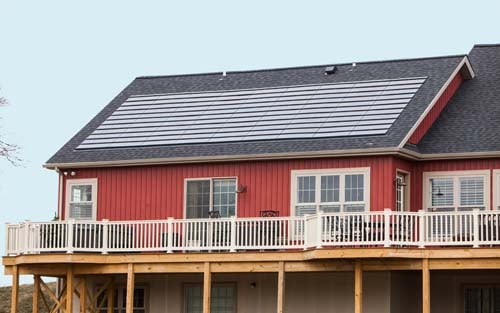 Highly efficient photovoltaic shingles blend in and help the home achieve a Home Energy Rating System (HERS) score of 35.
The home is heated and cooled with an ultra-efficient ground-source heat pump. The closed-loop horizontal ground-source heat pump draws heat from the ground in the winter and sheds heat to the ground in the summer. The heat pump has a heating efficiency of 5.3 Coefficient of Performance (COP) and a cooling energy efficiency ratio (EER) of 24.4, or seasonal energy efficiency ratio (SEER) of 27.4. All of the ducts are located within the conditioned space of the home.
The ground-source heat pump also helps provide domestic hot water via a desuperheater. The unit supplies hot water to a 55-gallon storage tank plus a 0.91-energy-factor (EF) 55-gallon electric water heater. A push-button-activated hot water recirculation pump and low-flow fixtures help reduce hot water usage.
The highly efficient home achieves a Home Energy Rating System (HERS) score of 35, far below the 80 to 100 of typical code construction. With the addition of a 5.94-kW solar system, the HERS score drops to 14 and annual energy bills drop from an estimated $1,290 per year to $585 per year, or $49 per month. To minimize the visual impact of the roof-mounted photovoltaic (PV) array, the builder selected PV shingles rather than panels. The shingles are similar in dimension to roofing shingles and actually take the place of some of them, for a profile that blends in.
Adjustments for Aging In Place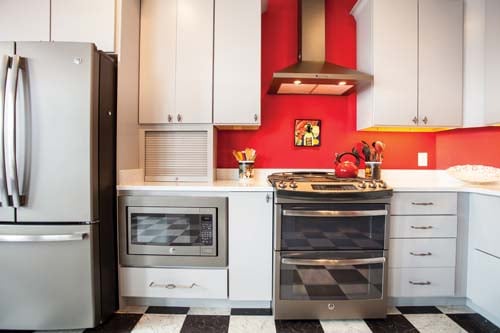 Energy-efficient appliances and fixtures throughout the house, such as the microwave, are at a height suitable for one of the home's owners, who is in a wheelchair.
One of the unique aspects of the project for DeGrandchamp was the design. The home owners, one of whom is a Realtor, wanted it to look good and be very energy efficient. It also needed to be handicapped accessible, as Dan is wheelchair bound. The homeowners already owned the land and had plans drawn by an architect when they contacted DeGrandchamp. "Once we were contracted to build the home, we made engineering changes to accommodate the [DOE Zero Energy Ready Home] principles, plus make the home accessible for the handicapped homeowner," DeGrandchamp says.
To facilitate the design process, DeGrandchamp set up three formal meetings with the homeowners, in addition to many informal meetings. "To improve accessibility and to keep the home as energy efficient as possible, we wanted to make sure we were not missing out on any detail that could improve the homeowner's ease and convenience when living and working in his home," he notes.
Among the changes DeGrandchamp made to improve accessibility were selecting and installing appliances that could be accessed from wheelchair height, designing the kitchen and master baths with roll-under sinks and counter tops, installing a wheelchair-friendly shower, adjusting the height of the electrical outlets and switches, relocating the electrical box from the basement to the main floor, and moving the solar inverters from the basement to the garage for accessibility. Other changes included designing zero-entry thresholds for the front door and garage entrance to the home, and installing a wheelchair-accessible path to the basement entrance.
To improve energy efficiency, DeGrandchamp re-engineered the wall system to accommodate SIPs and other insulation improvements, moved a set of outside stairs that led to a room above the garage into conditioned space, and added insulation under the basement slab. He also adjusted the home's orientation on the site to maximize beneficial solar gain through the oversized south-facing windows. The eaves were extended to minimize overheating from high summer sun.
Key Features
DOE Zero Energy Ready Home Path: Performance.
Walls: 6.5-inch R-23 Structural Insulated Panels (SIPs); house wrap; stone and vinyl siding; 4.5-inch SIPs; one-inch closed-cell spray foam plus R-19 batt at rim joists. All joints caulked.
Roof: Asphalt shingles, 15-pound felt; all eaves, gables and valleys have ice-and-water shield; kick-out flashing; five-inch sidewall flashing.
Attic: Vented attic, one-inch closed-cell foam sprayed on ceiling deck plus R-49 blown fiberglass equals R-56 total.
Foundation: Basement of R-21.3 insulated concrete panel walls; R-10 under slab.
Windows: Double-pane, single-hung, low-e, argon-filled, U equals 0.24, SHGC equals 0.17.
Air Sealing: 1.1 ACH 50.
Ventilation: Controlled smart switch venting system that calculates makeup air; fresh air intake; timered exhaust.
HVAC: Ground-source heat pump, 5.3 COP, 24.4 EER, 27.4 SEER; mastic-sealed ducts.
Hot Water: 55-gallon desuperheater, +0.91 EF 55-gallon electric tank water heater. Push button recirculation pump.
Lighting: 100 percent LED or CFL; all Energy Star® fixtures.
Appliances: All Energy Star.
Solar: 5.94-kW PV system.
Water Conservation: Low-flow fixtures; recirculation pump. Native landscaping.
Energy Management System: Energy management system.
Other: Low- or no-VOC products; motion-sensor garage exhaust fan; ADA accessible.